KWPMC Named 2018 Best Multi-Family Property Management Firm by the Daily Business Review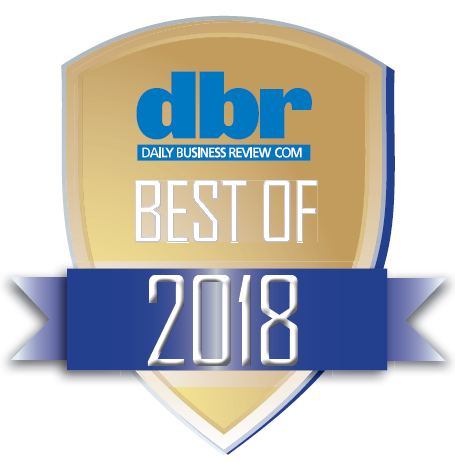 One of the real estate industry's leading residential property management companies, KW Property Management & Consulting, has been featured in the Daily Business Review's "Best of 2018" issue as the Best Multi-Family Property Management Firm. The company was recognized alongside its sister company, Rivergate KW Residential.
This year's win keeps the property management firm in the "Best of Hall of Fame," following in last year's footsteps. The hall of fame recognizes companies that have been ranked in the top two in a category for the past three years.
Companies honored on the list were voted in by publication readers through an online survey from August to September. Nearly 70 categories were included, from accounting and financial services to litigation and marketing services.
Headquartered in Miami, KWPMC was founded in 2004 by CPAs Paul Kaplan and Robert White, and has since grown its portfolio to include nine regions in including Florida, and Bimini Bay in the Bahamas. The company has more than 1,500 employees totaling 75,000 units under management.
KWPMC takes pride in enhancing the lives of both its residents and employees. Coming off of a complete rebranding effort complete with a new website and tagline, the company has expanded its portfolio with the addition of well-known luxury projects such as Brickell Heights, The Plaza Coral Gables, downtown Miami's Okan Tower, the redevelopment of the former Marlborough House property in Miami Beach and Heron Bay, the company's largest HOA community in Broward County.
"This is a huge win for every member of the KWPMC team," said Kaplan, Managing Director and Co-Founder. "We continue to implement innovative ideas and programming to improve our client service, and to be included year after year is an added bonus."
"To be recognized for our commitment to our work by the Daily Business Review is tremendous," said White, Managing Director and Co-Founder. "We're looking forward to continuing long and successful partnerships with our KWPMC and Rivergate KW clients."