Katalina Cruz Honored As An "Influential Business Woman"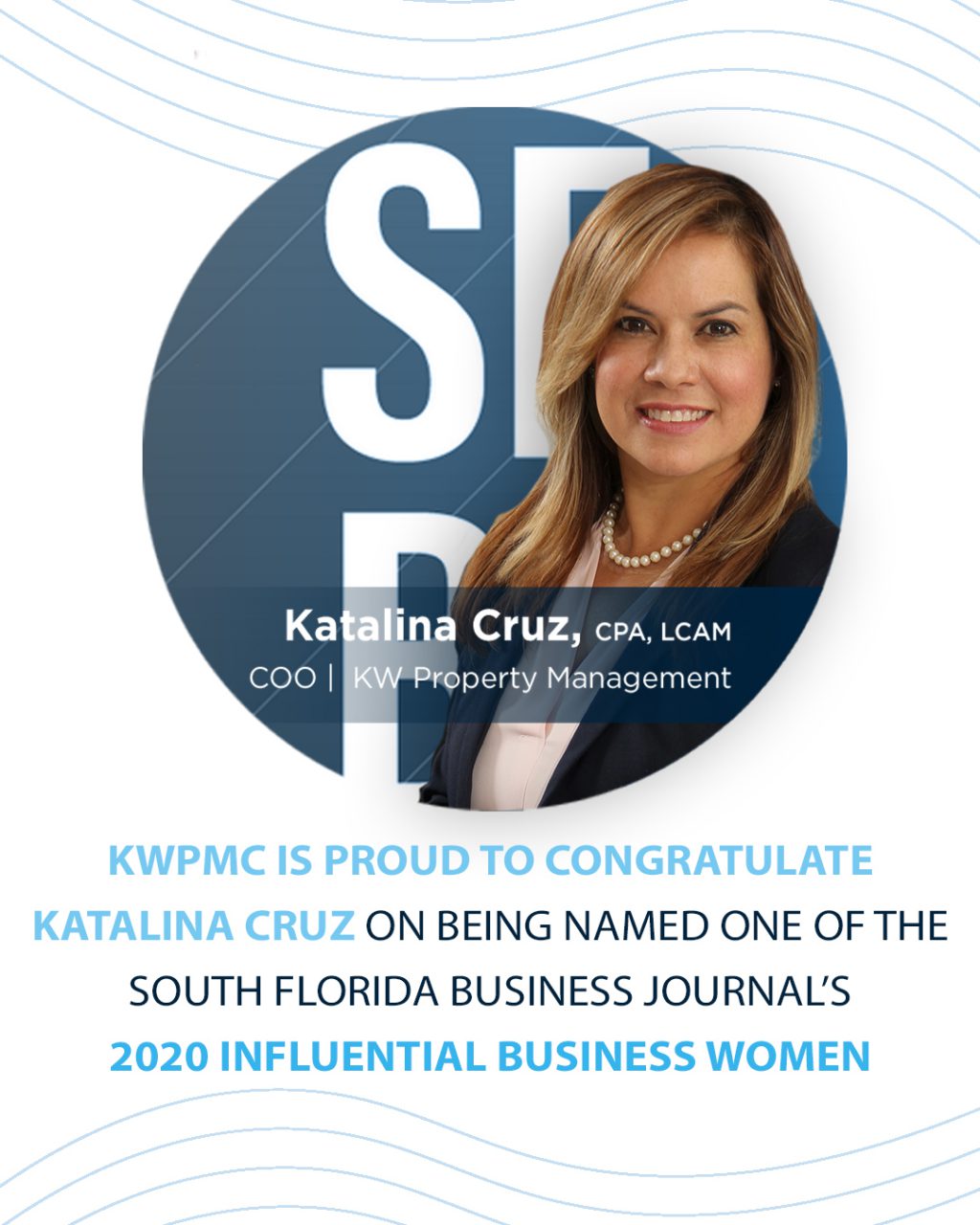 KWPMC's Chief Operating Officer, Katalina Cruz, has been named by the South Florida Business Journal as one of their "2020 Influential Business Women," an honor bestowed to only twenty women each year in the region who have shown strong records of leadership, innovation in their industries and community involvement.
Katalina has played a major role in structuring the company in an organized way, onboarding new communities and ensuring smooth community operations at all times. Company co-founders Paul Kaplan and Robert White credit Cruz with creating and fostering a corporate culture that has allowed KWPMC to add so much talent – and retain that talent – in such a short period of time. Most recently, Cruz has been fine-tuning the company's technological infrastructure, showing clients and employees the company's ability to provide real-time property and employee performance data through integrated online dashboards. Cruz is spearheading a growth and development program that will increase KWPMC's ability to train its employees more efficiently and help them progress within the company. The program will also assist in payroll management by allowing employees to have complete access to a wide range of plans and funding opportunities the company offers. The much-anticipated program will be rolled out in first quarter of 2020.
Cruz's community involvement ranges from mentoring young students to providing meals to combat senior hunger in South Florida to rallying hundreds of individuals to collect goods and supplies for those impacted by hurricanes.
Each year around the holidays, Cruz helped organize a food drive collection for Camillus House. Following the successful food drive, KWPMC team members are planning on visiting Camillus House locations and feeding members of the homeless population directly. Her charitable work also includes working with the Miami Dolphins and AARP Foundation alongside various KWPMC team members in helping to pack 1 million meals to fight senior hunger in South Florida.
With Hurricane Dorian devastating the Bahamas, Cruz organized two programs within the company to donate to the relief efforts. All KWPMC properties had a donation collection facilitated by the company to send goods to the Bahamas such as food, water and clothing. KWPMC has also decided to take all funds that would have gone toward a company holiday party and donate the money to Bahamas relief. Cruz was an integral part of both programs. Additionally, Cruz dedicates time to mentoring high school students (and staying in touch with them as they move on to college and professional pursuits) through the Communities in Schools of Miami. Through that program, students have the opportunity to spend a month with a company to learn about their business and receive much-needed mentorship on higher education, pursuing scholarships and career paths. Cruz was invited to speak about the program and her work with the students at a conference in New Orleans.
Katalina and her fellow nominees will be formally honored at the awards ceremony in mid-March.